Residental Moving in Sunrise, Florida
Moving South Florida Homeowners proudly for over 25 Years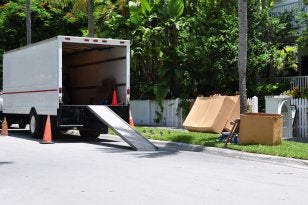 When it's time to make a residential move, it's time to call Right Choice Moving. We provide quality residential moving services to ensure a smooth transition to your new residence. If you'd rather not deal with the headache of packing up and moving your belongings, let our family owned and operated, award-winning accredited movers handle it for you. For a stress-free, no hassle move, call for your free quote today…954 846-8332.
Advanced equipment
Sometimes, a few boxes and some packing tape is all you need to complete your move. Most of the time, however, you'll find the job to be extremely difficult without a bit of mechanical assistance. We use professional equipment for all major moving services – not only does this help us get the job done quickly, it also protects against potential damage from "forced" moves and poor preparation.
Our focus on efficiency doesn't end when we've packed everything up, though. We also provide packing materials that ensure your belongings will stay secure throughout the move as well.
We will provide what you need;
Packing materials and boxes
Packing services
Transport
Piano moving
Leave the hassle behind
Residential moves aren't exactly notorious for being fun and easy, we know. While we may not be able to make them fun, we have made a career out of that last part – working with us couldn't be any easier.
We understand the stress that comes with most moves, which is why we strive to minimize your involvement and take care of everything for you. We'll want to know the basics, but expect us to come with solutions for any potential moving problem.
Instruments and valuable items
Moving a piano? Whether it's a high-priced grand piano or a family heirloom, trust your valuable instrument to professionals. We're also equipped to handle fine art and collectible items with custom crating and careful planning. All of your belongings will be treated with care – you can trust that we won't be scratching wood floors or nicking walls.
Climate-controlled storage
Worried about the humid climate of South Florida during your move? Relax. We can store your precious valuables and large items in our air conditioned storage units.
All of our units are closely monitored and offered at affordable rates. Whenever you're ready to move what is stored, give us a call and we'll take care of it. Our crating is planned strategically and can be custom built when necessary. In fact, each client we interact with will be handled with careful planning and individual consideration.
Short and long distances
From Miami to West Palm and beyond, we are fully equipped and prepared to move your things locally or long distance. By long distance, we mean that we'll even move clients out of state – if you're not sure if we cover your new destination, just give us a call and we'll let you know.
Think your home move might be too extensive for our team (and too expensive for you)? Ask us for a quote and we'll give you an honest estimate that includes everything – from packing up to storage and unpacking at the new location.
Why should you choose us?
There are as many reasons to choose Right Choice Moving & Delivery as there are moving companies in all of South Florida, but here are a few of our favorites:
We offer flat rate pricing that is clear and upfront.
We've moved thousands of homes and businesses, and are recognized by the Better Business Bureau.
Estimates are free – ask us about cost before you commit to anything.
We offer more than 25 years of moving experience.
Our staff is friendly, professional and efficient.
No item is too big or too small for us to move! Our company has an A+ Rating and we have helped thousands of Southern Florida homeowners with residential moving throughout the state and beyond. We strive to be as efficient as possible without sacrificing your belongings' safety. Dial (954) 846-8332 to learn how our Sunrise moving company can be of assistance!